HOw to Plan a Tour of the Holy Land
Get the Holy Land tour your group is dreaming of
Good Shepherd Travel is ready and willing to help you plan and organize a tour to the Holy Land, and will see to it that it's done right.
When it comes to planning a tour to the holy land, it is like most other trips. It needs to be organized out well in advance, with careful consideration of interest, timing and cost.
1) Interest
What kind of pilgrimage your community is interested in doing will depend on its interests. A Catholic pilgrimage in the Holy Land is much different than a Episcopal, Baptist or Pentecostal pilgrimage. A group can be more focused on visiting Biblical sites from the Old Testament, visiting churches and shrines that are maintained by the Franciscan Catholic, Greek Orthodox and Armenian churches, or a mix of both. Some groups may wish to spend time worshipping and visiting with local Christians, and others may be more interested in having a leisure component to their pilgrimage. It all depends on what you want out of your pilgrimage.
2) Timing
Timing is an often-overlooked part of preparation for travel in the Holy Land, but it is a very important part. Timing can mean the difference between a comfortable, affordable pilgrimage set at a decent pace, and a very costly, rushed pilgrimage competing with throngs of pilgrims from all over the world.
The busiest times for pilgrimages in the Holy Land happen during major Christian and Jewish feast days, most of which fall in the spring and autumn. Flight, hotel and guide services will vary greatly during these times. During Easter and Passover, it is often next to impossible to book rooms without doing so over a year in advance.
The weather and seasons of the Holy Land is very close to that of the state of Texas. Spring through fall is generally a hot, dry period, with late fall, winter and early spring being wet and cold. The peak season for travel to the Holy Land is Spring, depending on when Easter lands, and Autumn. The most competitive prices can be found during the Winter and Summer, if groups are willing to handle very hot, or sometimes very cold weather.
3) Cost
The cost of each pilgrimage will involve both interest and timing, as well as what degree of accommodation the pilgrims want, how long they wish to stay, and how many people they have in their group.
In general, the larger the group, the lower the price, as Good Shepherd Travel can negotiate with vendors and service providers much better than with small groups.
Lodging options can range from hostels to four-star accommodation. Entrance to holy land churches is almost always free, but most parks and museums have entrance fees. Knowing what you are looking for out of your experience and having flexibility to adjust dates and services will help determine the final price.
Whatever the interest, timing and cost range, Good Shepherd Travel will work with you to make it happen. Contact us info@goodshepherdtravel.com or Toll Free 1-84- Holy Land (1-844-659-5263) with as much initial information as you can, so we can start making plans to make your pilgrimage a fulfilling one.
Tour the Holy Land as a family or individual
Individual and family pilgrimages to the Holy Land can be a uniquely rewarding experience for those who wish to have a private, customized experience where they can truly set their own program itinerary and pace.
The Holy Land can be a tricky place to navigate on your own for the first-time visitor
Public transportation is sparse and difficult to maneuver, and getting fair prices from guides, hotels and taxis is not easy. Lastly the Holy Land runs on a very confusing schedule based on different Jewish, Muslim and Christian traditions in different regions of the country.
Good Shepherd Travel can provide individuals and families with the needed services for organizing a private pilgrimage for individuals, families and small groups, down to the last detail. We are also able to offer suggestions for program itineraries to make your experience even more memorable, as a private pilgrimage offers a more relaxed schedule than group pilgrimages.
Interested in learning more? Contact us at info@goodshepherdtravel.com or Toll Free 1-84- Holy Land (1-844-659-5263) and let us know what you are looking for.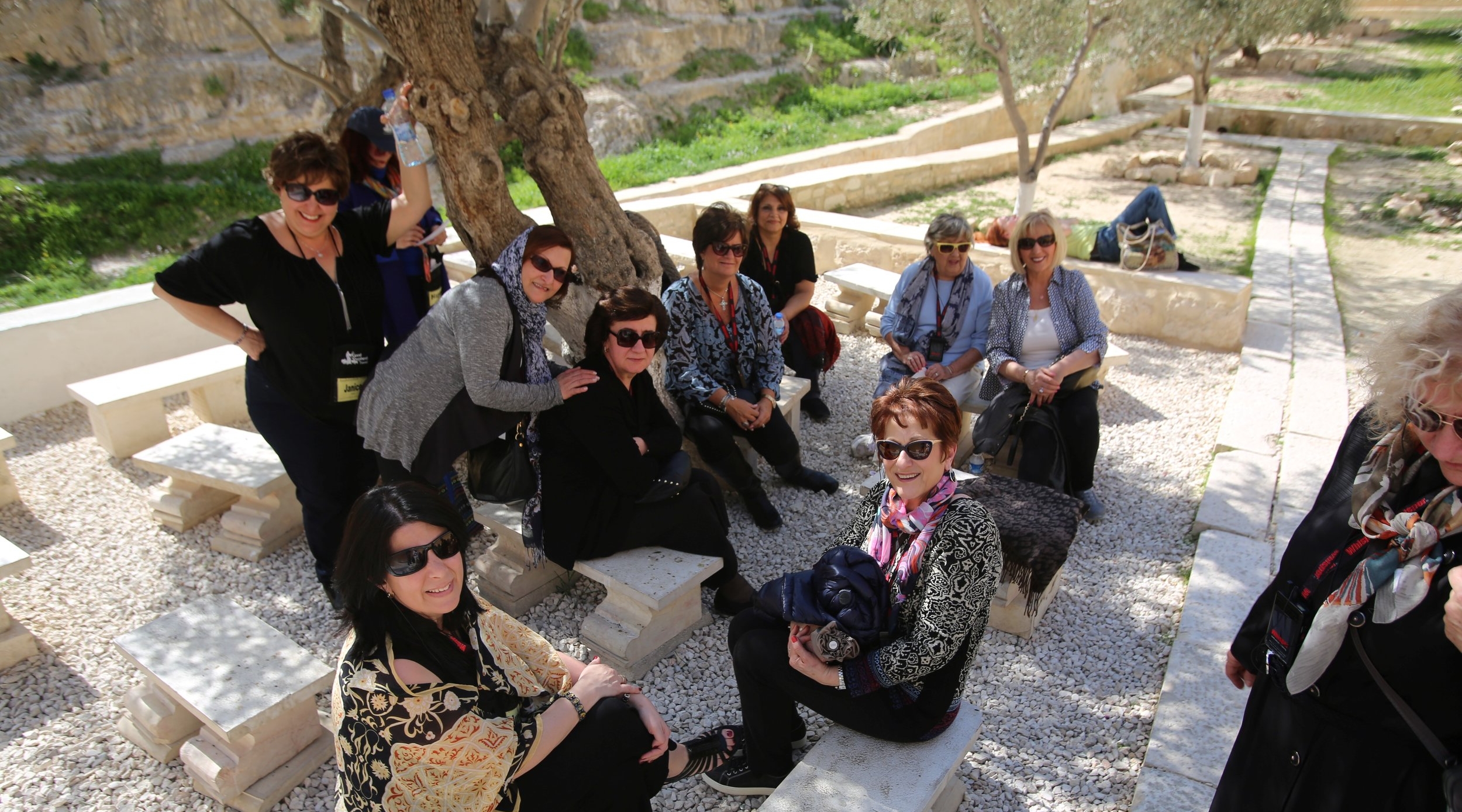 7 things to know to travel safely in the Holy Land
Are you thinking about going to the Holy Land, but are concerned about your safety? Not to worry. Here are seven questions commonly asked by people preparing for their journey to the Holy Land:
1) Is it safe to visit the Holy Land at the moment?
Yes, it is. More than 3.5 million visitors came to Israel in the last year, including almost 2.5 million that came to the West Bank. If it was not safe to come, Good Shepherd Travel would not be sending pilgrims to the Holy Land!
2) Are there any regions that are not safe to visit?
At this point in time, the only region where it is not possible to travel to on pilgrimage is the Gaza Strip, located on the southern coast of Israel adjacent to the Egyptian border. The security situation in Gaza remains volatile, but the violence is contained to this region of the Holy Land, out of reach on any Good Shepherd Tours that are currently planned.
3) Isn't it dangerous to visit Jerusalem and the West Bank?
The West Bank is managed by the Palestinian Authority, which is something of a government-in-training that is supported by the United States, European Union and many other international agencies. East Jerusalem, which includes the Christian, Muslim and Jewish places of worship and pilgrimages, has an undetermined status but is under the control of the state of Israel. Since 2002, tourism to both Jerusalem and the West Bank, where the cities of Bethlehem, Beit Sahour and Jericho are located, has steadily climbed every year. Both Jerusalem and the West Bank, as well as Israel itself, is very safe for pilgrims to visit.
4) Isn't Bethlehem surrounded by a wall?
Sadly, yes. But the wall has been built around sections of the city that are considered the suburbs of Bethlehem, and tourists are allowed to cross into and out of the city at all times of the day, every day of the week. On occasion soldiers may board your tour bus and speak to the bus driver and guide for a few minutes, and you might be asked to show your passport. The experience is very similar to many other international crossings across the world.
5) I have read that security at the Israeli airport in Tel Aviv is the strictest in the world. Should I be concerned?
Security at Ben Gurion Airport in Tel Aviv is very thorough, but it is also some of the most professional. With tourism being one of the most important sources of income for Israel, the security forces are trained to process pilgrimage groups through as quickly and efficiently as possible. While some individuals may be questioned as to their purpose of visiting the Holy Land, and may be asked some questions about their stay, there is absolutely no cause for concern; these are just routine questions that are asked, often at random. As with most international flights, the security procedure at the airport may be tedious, but it is a manageable experience.
6) Is there anything I should bring or not bring to the Holy Land concerning safety?
Pack your bags as you would for any international flight. There is no need for any additional safety or security precautions.
7) While I am in the Holy Land, are there any considerations I should have concerning safety?
Your guide will instruct you on specific safety concerns while in the Holy Land; in particular when and where to carry your passport and places to be more aware of your personal belongings than others. In general, exercising good common sense is the only real advice you will need.
How traveling to the Holy Land with Good Shepherd Travel works
The following is the general policies and practices of Good Shepherd Tours. Certain amendments and exceptions may be made for unique conditions with a particular pilgrimage; these amendments and exceptions will be detailed in writing in the program documents when and where needed.
Deposits
$300 is due with each registration. See our cancellation policy below.
Payment
Payment is made to Goodshepherd Travel. We accept Checks, Credit Cards and PayPal.
Unless otherwise specified, the package price includes the following:
Meet & Assist at Ben Gurion Airport upon arrivals and departures.
Three nights' accommodation in Tiberius in double occupancy with breakfast & dinner.
Two nights' accommodation in Jericho in double occupancy with breakfast & dinner.
Three night's accommodation in Bethlehem in double occupancy with breakfast & dinner.
Eight days sightseeing in modern air conditioned private bus.
English speaking government licensed Christian guide on duty.
Entrance fees to places of interests whilst on tour in the Holy Land.
Special dinner at oriental restaurant with folklore show.
Round Trip airfare.
Unless otherwise specified, package price does not include the following:
Lunches and drinks
Tips for hotels, guide and bus driver
Travel insurance
Personal expenses
Passport
A US passport valid for six months beyond the duration of stay, an onward or return ticket is required. For non-US passport holders, please contact Good Shepherd Travel for more information.
Tipping
The price of the tour does not include tips and gratuities. Tipping is recommended to the tour guide and bus driver. We recommend approximately $6 per person per day for the guide and $4 per person per day for the driver. Hotel staff tips are approximately $1 per day per person.
Airline Tickets and Itinerary Length
Air transportation to and from your destination will be economy class aboard carriers utilizing non-refundable, non –amenable tickets for groups flying together for the days prior to departure and many change before they are finalized. Therefore, if you book the domestic flight on your own, you will be responsible for changing your domestic flights and incurring any changes fees that would be generated by this adjustment. We are not responsible for changes and delays in airline schedules and not reimburse passengers for expenses resulting from such occurrences. Travelers making their own flight arrangements should not purchase non-refundable, non-changeable tickets. We cannot guarantee the most direct routing to your final destination. If flight schedules change, we reserve the right to lengthen or shorten the itinerary accordingly, and if change or flight schedules necessitate extra overnights, you will be charged at normal hotel rates. Land only packages do not include airport-hotel transfers.
Baggage
The passenger is allowed to bring one (1) checked bag, which may have maximum weight of 50 lbs, and maximum combined dimensions of 62 inches. Also, one (1) carry-on bag with maximum dimensions of 8"X12"X20" is permitted. Luggage is the passenger's responsibility and that of the airlines. For lost luggage, the passenger is responsible for notifying the airline directly. Check with your carrier regarding carry-on luggage rules and regulations.
Cancellations
If you cancel before 150 days of the tour departure date, there will be no cancellation fees.
If you cancel after 150 days of the tour departure date, the cancellation fee is 100 USD.
If you cancel after 120 days of the tour departure date, the cancellation fee is 150 USD.
If you cancel after 90 days of the tour departure date, the cancellation fee is 50% of the total tour price.
How to get a Visa for a Tour to the Holy Land
Who requires a visa?
If you are a passport holder of one of the following countries you do not require a tourist visa to travel to Israel. If you are a citizen of a country not on this list contact the Consulate.
Albania, Andorra, Argentina, Australia, Austria, Bahamas, Barbados, Belgium, Bolivia, Bosnia Herzegovina, Brazil, Bulgaria, Canada, Central African Republic, Chile, Colombia, Costa Rica, Croatia, Cyprus, Czech Republic, Denmark, Dominica, Dominican Republic, Ecuador, El Salvador, Estonia, Estonia, Fiji, Finland, France, Gabon, Gambia, Georgia, Germany, Greece, Georgia, Guatemala, Haiti, Holy See (Vatican), Honduras, Hong Kong, Hungary, Iceland, India, Ireland, Italy, Jamaica, Japan, India, Korea South, Latvia, Lesotho, Liechtenstein, Lithuania, Luxembourg, Macau, Macedonia, Madagascar, Malawi, Malta, Marshall islands, Mauritius, Mexico, Micronesia, Moldova, Monaco, Mongolia, Myanmar, Netherlands, New Zealand, Nicaragua, Niger, Norway, Panama, Papua New Guinea, Paraguay, Peru, Philippines, Poland, Portugal, Romania, Russian Federation, San Marino, Senegal, Serbia, Sierra Leone, Slovak Republic, Slovenia, South Africa, Spain, Sri Lanka, St Kitts & Nevis, St. Lucia, St. Vincent and the Grenadines, Surinam, Swaziland, Sweden, Switzerland, Thailand, Trinidad & Tobago, Turkey, Ukraine, United Kingdom, United States of America, Uruguay, Vanuatu, Venezuela.
What documents will be required?
Please note that in order to travel to Israel from any country including those which do not need a visa you require:
A passport valid for at least 6 months
A return ticket from Israel.

In addition, if a visa is required, the following must be provided:
Completed and signed application for a visa to enter Israel
Two passport pictures
Payment of the fee.
What is the cost of a visa?
Visitor's/Tourist visa (B/2): USD21 (EUR15)
Work visa (B/1): USD44 (EUR31)
Temporary visa (A/1) : USD44 (EUR31)
Permanent resident visa: USD173 (EUR121)
How long is the visa valid for?
A tourist visa (B/2) is valid for up to 3 months. To extend a visitors visa you will need to submit an application at the regional population administration offices of the ministry of the interior.
Other information:
Extending Your Stay
Visas may be extended (for a nominal fee) at offices of the Ministry of Interior in the following locations:
Afula, Akko (Acre), Ashqelon, Be'er Sheva, Elat, Hadera, Haifa, Herzelia, Holon, Jerusalem, Nazareth, Netanya, Petah Tiqva, Ramat Gan, Ramla, Rehovot, Safed, Tel Aviv, Tiberias.
Working in Israel
If you wish to work in Israel you must first find secure employment in Israel and ask your prospective employer to apply for a work visa for you there.
Embassy contact information:
Israeli Embassy in Washington DC, United States
Embassy of Israel
3514 International Drive, NW,
Washington DC 20008
Tel.: (202) 364-5500
Fax: (202)-3645429
Israeli Consulate in Atlanta, United States
Consulate of Israel in United States of America
1100 Spring St. N.W. Suite
440 Atlanta, GA 30309
USA
Tel.: (404) 487-6500
Fax: (404) 487-6555
Israeli Consulate in New York, United States
Consulate of Israel in United States of America
800 Second Avenue
13th Floor
New York, NY 10017
Tel.: (212) 499-5400; (212) 499-5000
Israeli Embassy in Houston, United States
Consulate of Israel in United States of America
24 Greenway Plaza,
Suite 1500 Houston,
Texas 77046
Tel.: (713) 627-3780
Fax: (713) 627-0149
Israeli Consulate in San Francisco, United States
Consulate of Israel in United States of America
456 Montgomery Street,
Suite 2100,
San Francisco, CA 94104
Tel.: 415 – 844-7500; (415) 844-7510
Fax: 415-844-7555
Israeli Consulate in Chicago, United States
Consulate of Israel in United States of America
111 E. Wacker Dr., Suite 1308
Chicago, IL 60601
Tel.: 312-297-4800
Fax: 312-297-4855
Israeli Embassy in Los Angeles, United States
Consulate of Israel in United States of America
6380 Wilshire blvd.
Los Angeles CA, 90048
Tel.: (323)852-5500
Fax: (323)852-5555
Disclaimer
The contents of these pages are provided as an information guide only, in good faith. The use of this website is at the viewer/user's sole risk. While every effort is made in presenting up-to-date and accurate information, no responsibility or liability is accepted by the owners to this website for any errors, omissions, outdated or misleading information on these pages or any site to which these pages connect or are linked.

Source & Copyright: The source of the above visa and immigration information and copyright owner/s is the:
– Israel Ministry of Foreign Affairs – www.mfa.gov.il

The viewer/user of this web page should use the above information as a guideline only, and should always contact the above sources or the user's own government representatives for the most up-to-date information at that moment in time, before making a final decision to travel to that country or destination.
How to tell my church about our tour to the Holy Land
Holy Land presentations in Texas and surrounding states
Interested in learning more about the Holy Land, and considering a pilgrimage for your church or faith community?

Good Shepherd Travel owner and operator Tony Abu Aita is able to speak on the Holy Land and pilgrimage in your church, parish, diocese, Bible study or prayer group throughout Texas. With a little input on what specific interests are, Tony will put together a talk that can be delivered at a time and place of your convenience. Tony has been giving talks since 2002, and always enjoys sharing his story as a Holy Land Christian and what pilgrimage means to a Christian community.

Tony's talks are not meant as a sales pitch – they are meant to help build knowledge about the Holy Land and generate a discussion as to the possibility that a pilgrimage for your community is something to consider. There are no expectations that come with the talk – just hear Tony speak, and see where this first step towards the Holy Land takes you.

For more information about organizing a talk in Texas, please contact Tony at info@goodshepherdtravel.com or Toll Free 1-84-Holy-Land (1-844-659-5263)